On 6 May 1954 a young medical student, Roger Bannister, became the first man to run a mile in under four minutes (3 minutes, 59.4 seconds).

In 1979 Sebastian Coe ran the same distance a full ten seconds faster (3 minutes 48.95 seconds). Today the world record is held by Hicham El Guerrouj with a time of 3 minutes 43.13 seconds.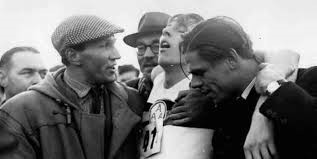 What explains this remarkable improvement?
In recounting the story of the first four-minute mile Bannister, a deeply modest man, gave full credit to the team who had worked with him. Two of its members, Chris Brasher and Chris Chataway acted as pacemakers in the race. The fourth team member watched on from trackside, congratulated an exhausted Bannister after the race, and then left quietly as the press crowded around the runners for pictures. His name was Franz Stampfl.
Research Informed Training
Stampfl was Bannister's coach and a pioneering advocate of a scientific approach to athletics training. His methods deployed the latest findings of research that he and others had undertaken; particularly in relation to the efficacy of interval training. His training methods enabled Bannister to improve his performance and break the world record.

Where Stampfl led, others followed.
Today's elite sports men and women – many of whom train out of Oriam – are coached by those who draw on, and contribute to, research which reaches into areas from nutrition, through biomechanics to psychology. The quantity and quality of sports science research continues to rise. Levels of performance have never been higher.
So what might be taken from this story that is of relevance to our thinking about student learning and the delivery of our new learning and teaching strategy?
Research Informed Learning
First, at the risk of being charged with educational heresy, let us honestly admit that in fact, we know less than we would like to know about how student learning actually happens. Like the early athletics coaches, experienced lecturers know what works and what does not. Like the pioneering Stampfl, our best practitioners draw on and contribute to our stock of knowledge through careful scientific research. But there remains an uncomfortable deficit in our understanding of the process of learning itself.
More positively, that means it remains an active and fertile field of research. Consequently, there is potential for large advances in student learning – and by implication student performance – to be made.
Second, regardless of how much we do or do not know about the student learning process, Universities typically do not generally use this systematically to shape or reshape their academic provision. There are honourable exceptions to this rule of course [1]. However, in the Scottish HE sector at least, traditional teaching and assessment methods are notoriously difficult to dislodge despite academics' own misgivings about their efficacy.
Our new Learning and Teaching Strategy – Inspiring Learning – gives us a once-in-a-decade opportunity to reshape our curriculum, our approaches to teaching and our assessment methods across the University. We believe that through discovering, understanding and systematically deploying results of the most up to date educational research into learning, we will, in turn, enable students to learn more effectively.
Or to put it more bluntly; in the sphere of student learning, we wish to perform at a higher level.
Stampfl and Bannister would have recognised the Strategy.


Professor John Sawkins

Deputy Principal Learning And Teaching