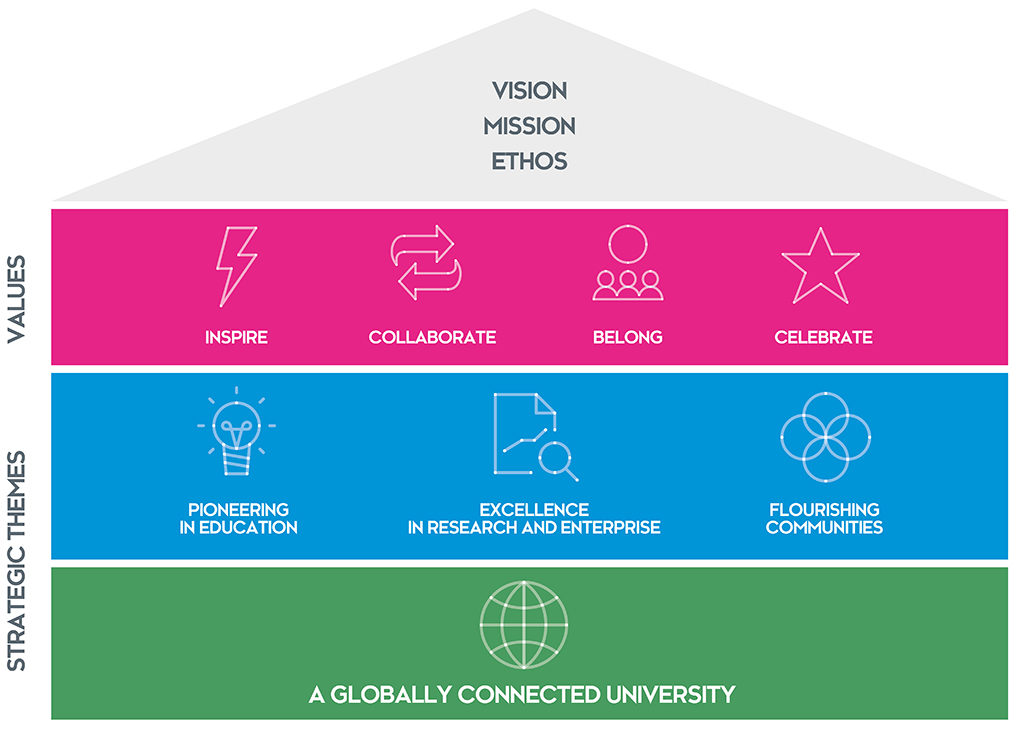 Focused on our vision for excellence in everything we do, our mission to benefit society and our stated ethos and values, the main themes of the plan express what we intend to achieve and how we intend to do it.
We are a distinctive University with global reach and a proud history of providing access to education, ideas and solutions that make a real contribution in the world. Our strategy builds on our strengths and is organised around four related themes: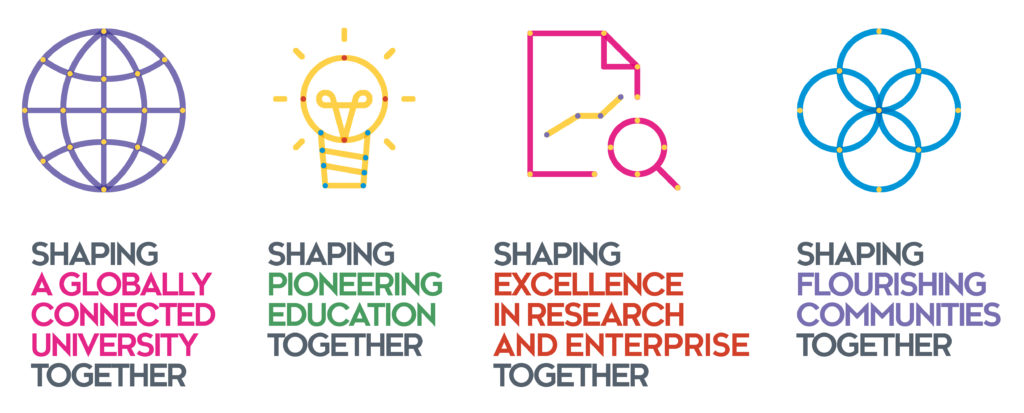 Building flourishing communities
We will emphasise that our University is led by its values, developing as a mutually supportive and responsible community, with a positive influence on communities around us and on society as a whole. To be successful in this, we will need the best efforts of every member of our community. This is especially relevant as through our research, education and enterprise we achieve real innovation and change encompassing, for example, clean energy transition, sustainability, communications, robotics and artificial intelligence. We will grow the scale of our research securing our position as a globally leading University.
Pioneering in education
We will prepare our students to be even more resilient and ready to shape the world by developing a model of positive education, helping them to adjust whether to a new life on campus or adapting to on-line learning whilst employed—indeed, increasingly all of us are 'students always'.
Excelling in research and enterprise
We will tackle problems of real significance to society through our interdisciplinary approach and close collaboration with the sectors of industry and business that we serve, providing a seamless evolution from fundamental research to innovation and enterprise. Our international presence, the quality of our research and our entrepreneurial approach, and the establishment of new research institutes will place us at the forefront of academic endeavour with outstanding impact on society.
Being a globally connected University
We will continue to work on the effectiveness, operation and structure of our University, to help our academics excel in their teaching, research and enterprise, and we will make the most of the opportunities for cross-disciplinary work by breaking down the institutional barriers that keep people apart. We will support the development of our staff and their ability to interact with their local communities, striving for excellence in all we do. We will continue to raise the calibre of our student experience and variety of learning approaches, so our students can make the most of studying with Heriot- Watt.