Over the last two weeks, I have been encountering many examples of collaborations within our community of staff and students. So many activities are often hidden, ranging from volunteering in support of external organisations and for people with needs. Then other collaborations made in establishing connections and partnerships are critical in making things happen within our educational and research endeavours.
The remembrance activities I mentioned in my last blog took place at the steps of the Universities Cenotaph in the Old College quadrangle at the University of Edinburgh. It is always a humbling moment, as we thank and pay respects to those who lost their lives, but also one where I take humble pride in representing our University and all those in our worldwide community. The collaboration with our local universities is also good to see – and on this occasion, Heriot-Watt's Rev Dr Alistair Donald presided and Heriot-Watt's Dr Steve King and the Heriot-Watt University Choir sang – serving all the wider city universities in a wonderful way. You may be interested to reflect by viewing a short video which has been prepared by the University of Edinburgh to mark the ceremony and the occasion. Thanks to those involved in supporting these special collaborations amongst our community.
Last Friday felt 'quite normal' as I had the opportunity to meet (in person) two sets of longstanding collaborators to the University who interact with many students and colleagues. First, researchers and leaders from Petronas in Malaysia visiting the Institute of Geoengineering in Edinburgh – as we continue to work together to hasten the energy transition including discussing new research in hydrogen. These relationships are built on decades of trust and include working with employees who are alumni and share our values. My second set of visitors included the Brigadier in charge of the Scottish Army to discuss our OTC students and the changing nature of collaborations with the intelligence and operational services. We are fortunate to have many of our students in Scotland who have the opportunity to develop skills with the various services alongside their studies. I am also grateful to the staff members who liaise on such matters with the Edinburgh Military Education Committee.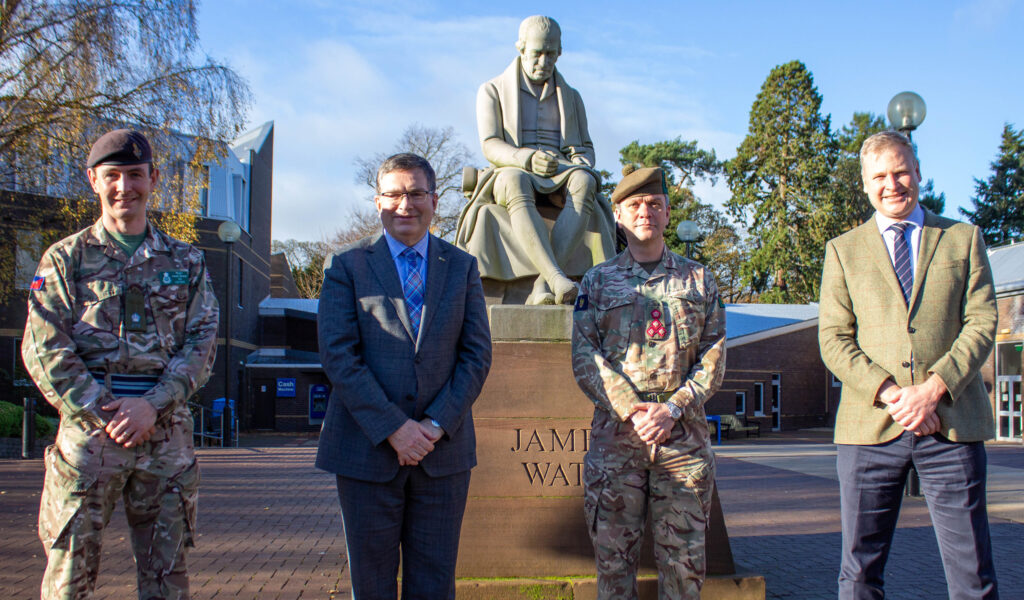 This week in Dubai I was excited to visit the ESTEEM House (featured in my earlier blogs). This is a lighthouse example of a cross-university student-led multi-disciplinary global project to design a sustainable house for a challenging environment and then to build and live in it! The ESTEEM House now built, competed in the 2021 Solar Decathlon and part of EXPO2021 sits alongside the world's largest single-site solar park – The Mohammed bin Rashid Al Maktoum Solar Park (with a planned production capacity of 5,000 MW by 2030, and providing 70% of Dubai city's power requirements). It was fitting that alongside such ambition for sustainability, the ESTEEM house was an outstanding example of work built on team design and wide collaborations with over 40 external partners. The partners, sought out by the student leaders, have provided expertise, training, materials in-kind and direct support to provide a truly exceptional project and learning experience. My congratulations to the student team (over 45% women I noted) drawn from across the University and to the supporting Technicians and to the Staff team from EGIS on demonstrating the power of collaboration and what can be achieved in driving the frontiers of sustainable design with such ambition.
Professor Richard A. Williams
Principal and Vice-Chancellor